Only one person I know will love this post.  So if you are not that person, just ignore it.  
The World's Fattest Man (700 lbs) Gets Married!
By Charlotte Triggs
Originally posted Tuesday October 28, 2008 05:25 PM EDT
Photo by: Dean Chapple / Splash News Online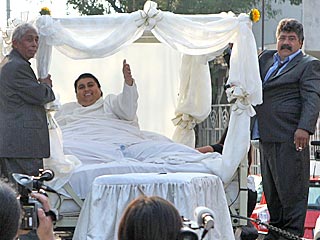 The world's fattest man, Manuel Uribe married his girlfriend of two and a half years, Claudia Solis Sunday night in a blowout ceremony in Monterrey, Mexico. 
Not that their fiesta was easy to pull off. Uribe, who once weighed more than 1,200 lbs. before losing 530 lbs. on the Zone diet since 2006, is bed-ridden and cannot walk. To transport Uribe, 43, to the wedding, friends placed him onto a bed adorned with satin sheets and garlands of peach and yellow roses, then hoisted him onto a flat bed truck to be driven across Monterrey to the posh Club de Leones. Five hundred guests were on hand to celebrate the nuptials. 
Once inside, all eyes were on Uribe's bride Claudia, 38, as she descended a spiral staircase, dressed in a strapless beaded gown and tiara. "She's so beautiful," Uribe tells PEOPLE. "I get butterflies in my stomach every time I look at her."
"Manuel was so excited, he was crying tears of joy," says his physician, Dr. Barry Sears, founder of the Zone diet. As the newlyweds partied until 2 a.m., greeting friends and holding hands while swaying to traditional Mariachi music, it was clear, "he was having a great time, and he should!" says Dr. Sears. "This is a great moment for him." 
As for their honeymoon? "We will have one, but it will be here in my house," says Uribe. "I can't travel yet." 
But the former mechanic is just happy to be married. "I used to ask God to please send me a woman who would love me as I am," says Uribe, whose bride also helped care for him in the months before their wedding, cooking him chicken fajitas and helping him bathe. "I'm so thankful that he sent me Claudia. I know if she loves me as I am now, with this problem that I have, she'll love me when I'm finally able to walk again."